What's New
STB wins WTM World Responsible Tourism Award
STB wins WTM World Responsible Tourism Award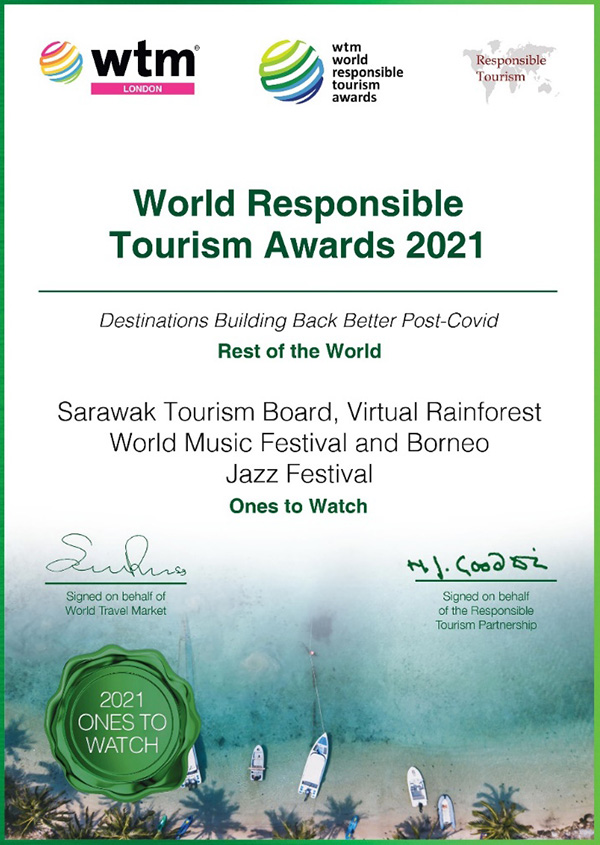 KUCHING – The Rainforest World Music Festival (RWMF) and Borneo Jazz Festival (BJF) virtual experiences organised by Sarawak Tourism Board (STB), was recently named as the 'One to Watch' by WTM Responsible Tourism Awards 2021.
Open to four regions (Africa, India, Latin America and the Rest of the World), the awards recognise excellence in responsible tourism, and selected RWMF and BJF in the Destinations Building Back Better Post-Covid category.
These first-of-their-kind events in the region were streamed live on multiple online platforms and on TV channels, providing a platform for local performers to showcase their culture and heritage.
STB also partnered with Shopee and GrabFood to provide retailers an opportunity to market and sell authentic Sarawakian food and tourism products such as handicrafts and souvenirs, to local audiences. Viewers were able to watch the performances, interviews and flashbacks and engage in conversation with other online users throughout the 90-minute event as well as watch workshops from previous years from the virtual Bidayuh, Iban, Chinese and Malay houses at the Sarawak Cultural Village.
Upon the completion of the shows, a total of 402,865 people from 79 countries had tuned in for the RWMF and 244,637 from 43 different countries had tuned in for BJF. Leveraging on this global audience to promote responsible tourism, STB launched two responsible tourism videos during the virtual experience to educate viewers on the importance of responsible and sustainable tourism.
For more information on the festivals, visit rwmf.net and jazzborneo.com