KUCHING, 10th December 2021 – Sarawak Tourism Board (STB) today announced the winners of its second edition Photography and Videography competition in collaboration with Sarawak Photo-Art Society (SPAS) and Universiti Malaysia Sarawak (UNIMAS) with the theme "Hidden Gems of Sarawak".
The photography competition was divided into four categories for students under 18 years old, enthusiasts and the open-Professionals group. The categories introduced are Nature's Wonder, Going Green, Sarawak at Night and My Hometown or My City while the video categories introduced three new video categories – a documentary on Responsible Tourism for students, an open theme for professional videographers and a TikTok category.
Bernice Lau Yee Ting, 8, from Sarikei was the overall champion for photography with her entry, a snapshot of the Hungry Ghost festival celebrated at the foot of Sibu Eng Ann Teng Tua Pek Kong Temple featuring the offerings of the devotees. Its overall composition, muted evening tones, and cultural festival theme combined make a winning entry.
For the Videography open category, Nazmi Bin Nasseruddin from Kuching won RM10,000 for his winning entry on showcasing the magnificence of Southern Sarawak's hidden gems, highlighting trending Sarawak attractions such as the Paku Maze in Bau and Sarawak's own version of Jurassic Park in Bengoh Dam, while Candy Frederick from Baram came second place (RM6,000) and Chong Ee Vei from Miri, came third (RM6,000).
Lead judge, Sylvester Jussem, senior lecturer from Faculty of Applied and Creative Arts UNIMAS said: "The photos were judged based on the originality of idea, a story-telling piece that relates to form and feel. As usual, composition is the key element we look for each entry."
"This time around in my opinion, I find humanity of the moment in some of the entries taken during the challenging weather conditions depicting spirited characters and determination in their projects. I envy their skills and determination," he added.
Together with Sylvester, the judging panel comprised five hand-picked judges coming from diverse backgrounds namely Dr Hakimi bin Halim, lecturer from UNIMAS, Jenny Kam Moi Joon, President of Sarawak Photo-Art Society, Margaret Apau, STB director of communications and Dansley Rone, STB Graphic Designer. They reviewed 1,268 photos and 61 videos entries featuring Sarawak's hidden gems.
STB Chairman, Dennis Ngau extended his heartiest congratulations to all the winners of STB's "Hidden Gems of Sarawak" Photography & Videography competition for their efforts, dedication and skills in documenting Sarawak.
" Just like Sarawak's hidden gems, we need to cultivate our hidden talent which is why we added a student category for this year. STB believes in tapping and developing our local talent for tomorrow, especially in the art of visual storytelling, and this competition provides a platform to discover and expose our state's youth talent.
We were not disappointed by the turnout and the quality of the entries. In fact, we saw more and more young Sarawakians sharing their passion and creative point of view of Sarawak through photography and videography and have discovered new and amazing young talents in the art of storytelling.," he added.
The competition was launched on 10th November 2021 and ended on 15th December 2022. All winning photographs will be updated to a digital exhibition at a later date.
The list of winners in the STB's Photography and Videography 2022 competition categories are as follows:
Grand Prize Winner for Photography:
Bernice Lau Yee Ting (RM 6,000)
Open – Professionals (Photography)
1st Prize: Wong Siong Hang (RM 5,000)
2nd Prize: Tho Sai Wai (RM 3,000)
3rd Prize: Chew Chun Hian (RM 2,000)
Students (Photography):
Category 1 (My Hometown/My City)
1st Prize: Megannath Jeganathan (RM 3,000)
2nd Prize: Janice Lau Yee Ning (RM 2,000)
3rd Prize: Abdul Rahim (RM 1,000)
Category 2 (Sarawak at Night)
1st Prize: Jason Jia Hong Teo (RM 3,000)
2nd Prize: Muhammad Farid Azmar (RM 2,000)
3rd Prize: Vincent Vun (RM 1,000)
Category 3 (Nature's Wonders)
1st Prize: Lee Le Yong (RM 3,000)
2nd Prize: Eunice Ling Sing Wei (RM 2,000)
3rd Prize: Nathaline Wailyn (RM 1,000)
Category 4 (Going Green)
1st Prize: Mahmudul Hasan (RM 3,000)
2nd Prize: Ammar Nor Salehan (RM 2,000)
3rd Prize: Cindy Chai (RM 1,000)
Open (Photography)
Category 1 (My Hometown/My City)
1st Prize: Dennis Ngu Tai Gah (RM 3,000)
2nd Prize: Sie Houng Ling (RM 2,000)
3rd Prize: Choon Yee Lee (RM 1,000)
Category 2 (Sarawak at Night)
1st Prize: Ho Kok Boon (RM 3,000)
2nd Prize: Desmond Chien Yew Ngu (RM 2,000)
3rd Prize: Isaac Liew (RM 1,000)
Category 3 (Nature's Wonders)
1st Prize: Clarence Meechang (RM 3,000)
2nd Prize: Mohamad Ikhwan Bin Mohamad Razali (RM 2,000)
3rd Prize: Wilson Chiam Tak Chee (RM 1,000)
Category 4 (Going Green)
1st Prize: Ngo Hui Yen (RM 3,000)
2nd Prize: Lim Kah Sen (RM 2,000)
3rd Prize: Lee Pei Tze (RM 1,000)
Students (Videography)
1st Prize: Lee Le Yong (RM 5,000)
2nd Prize: Phang Jing Xian (RM 3,000)
3rd Prize: Jason Jia Hong Teo (RM 2,000)
Open (Videography)
1st Prize: Nazmi Bin Nasseruddin (RM 10,000)
2nd Prize: Candy Frederick (RM 6,000)
3rd Prize: Chong Ee Vei (RM 4,000)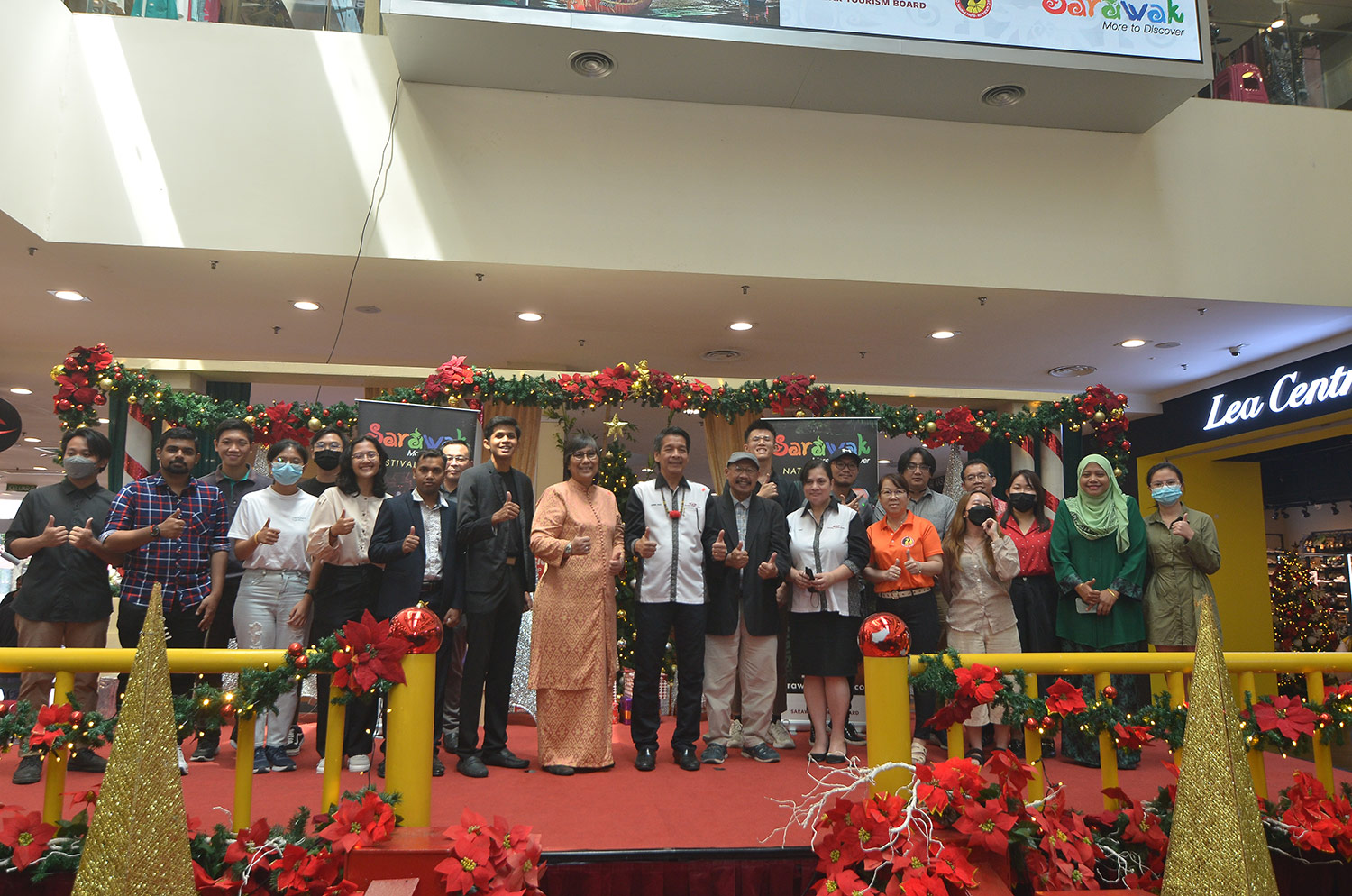 Ngau (Center), Sharzede (7th from Left) and Jussem (7th from Right) with the all prize winners from STB Photography and Videography competition, themed "Sarawak's Hidden Gem"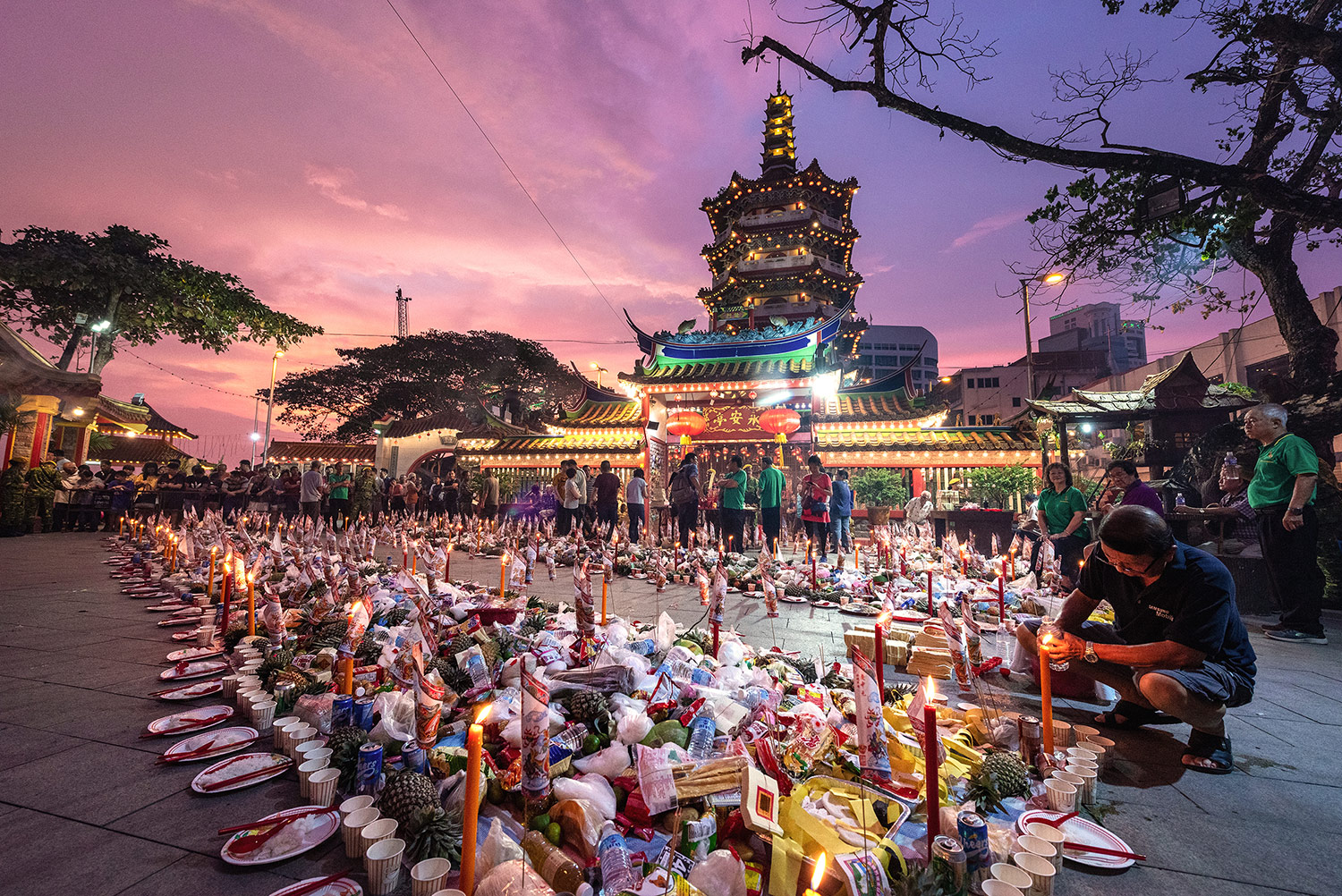 Grand Prize Photography by Bernice Lau Yee Ting, 8 years old. Photo Caption: Night Scene Of Sibu Temple During Ghost Festival In August 2022