News
TENUN Fashion Week 2021 Honours Asean Weaving Communities
KUCHING – Weavers are artisans who produce a visual feast of boisterous colours and fantastical shapes, creating fabrics put together by rhythmic movements of their hands and feet on their weaving looms.
TENUN Fashion Week 2021 is dedicated completely to the handweaves of ASEAN, reimagines their continued relevance by exploring their use in today's fashion whilst experiencing the artistry of the makers of these garments and celebrate their ways of life and means of livelihood.
This inaugural event, that was screened online on 15 to 17 October 2021, celebrates the handwoven textiles and weaving communities in Malaysia, Thailand, Indonesia, Laos, Vietnam, Cambodia and the Philippines.
Tenun Fashion Week 2021 was jointly organised by the Asean Handicraft Promotion and Development Association (AHPADA) and Tanoti, and supported by the Ministry of Tourism, Arts and Culture and Maybank Foundation through its Maybank Women Eco Weavers Programme.
The three-day event, hosted by Sarawak's award-winning singer-songwriter and sape player Alena Murang, featured panel discussions on topics 'Innovation in Woven Textiles', 'Patronage and the Woven Cloth', on 'The Woven Cloth – Less or More', and fashion showcases by renowned designers with handwoven textiles and fabrics as the main element.
At the closing of the event, Sarawak Tourism, Arts and Culture Minister Datuk Seri Abdul Karim Rahman Hamzah applauded the organisers for presenting traditional handwoven textiles, especially the pua kumbu, keringkam and Sarawak songket on the world stage and for supporting rural communities through this project.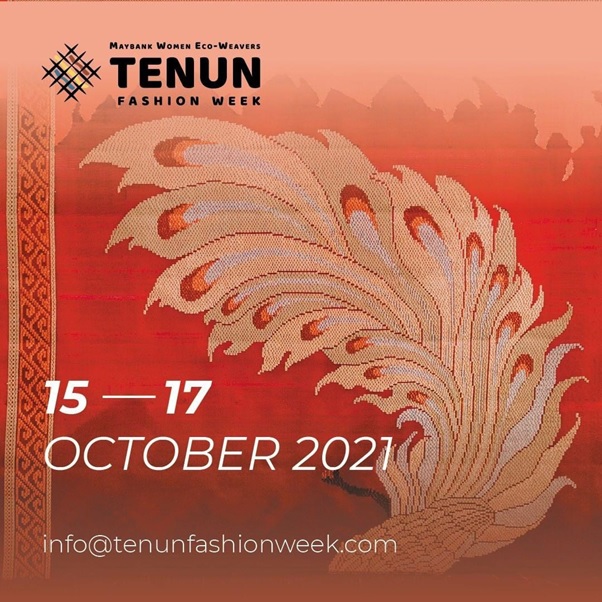 The poster for the TENUN Fashion Week 2021
Pic Credit: TENUN Fashion Week 2021 Website
A look at some of the handwoven-textile based garments featured in the fashion showcase.
Pic Credit: Borneo Post