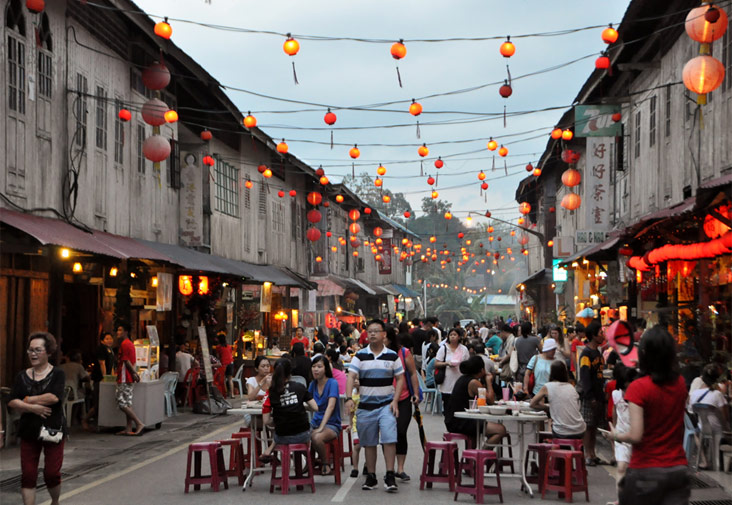 A four-day event consists of varieties of food, music, cultural events plus numerous health activities will be held from September 15 to 18 at Siniawan old bazaar. Siniawan is a small town in Bau District which is located about 20km from Kuching city.
The event is to promote 100 years of existence of Siniawan. The event will embark with a jungle trekking and cycling challenge which include other sports activities such as futsal, sepaktakraw, blowpipe demonstration, street and traditional games, and a state-level photography competition. On Saturday, 17 September, visitors will be treated to a 'Western country and Cowboy night' and live band performances of country western music including classic songs from the 60s to the 80s. The theme coincides with the single-street bazaars reminiscence of a typical American 'Wild West' cowboy town.
The event will also host mid-autumn festival (moon cake), calligraphy exhibition, Chinese chess competition, lantern-making demonstration, lion dance competition and the worshipping of 'Yue Niang' (Moon Goddess) and Ghost festival. There will also be a traditional Teochew Opera show and Mandarin 'Yue Liang' songs singing competition. A Sarawak ethnic section will be included to focus on the Bidayuh community that includes the selling of handicraft and local delicacies, and Bidayuh cultural performances.
Another interesting program is to explore Rajah James Brooke Heritage Trail which covers Brooke's first fort in Sarawak, Fort Berlidah which was built near Siniawan.
According to the organizing Chairman, Liew, most people called Siniawan an 'old people's town' because there were not many economic activities before year 2010. With this event, he hopes to make Siniawan as one of the popular tourists' destinations as it has a great potential.
For more information: http://www.theborneopost.com/2016/08/24/fun-filled-siniawan-festival-on-the-cards