Sarawakian jungle food made the way it is supposed to be
The natural resources of the rainforests are a source of livelihood for the natives of Sarawak, and people back in the old days came up with various cooking methods and jungle food which are still put to practice to this day. Sarawakian ethnic tribes would utilize any resources found in their surrounding.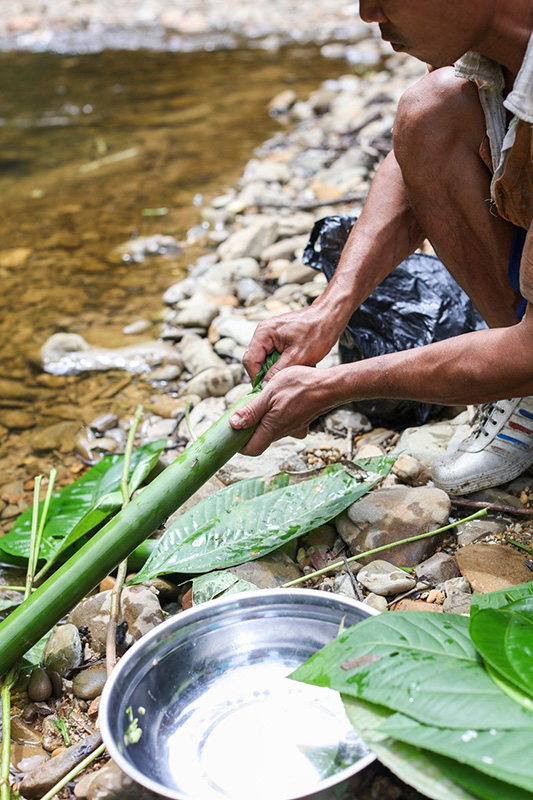 The jungle can literally be their kitchen. By using mother nature's earthly elements and resources, Sarawakians can pull off all sorts of dishes that are deemed meals made for the gods.
Sarawak cuisine and its long traditional cooking methods have been passed down from one generation to the next. Traditional cuisine is still being served to this day at home, food stalls and restaurants in Sarawak due to its simple recipe and exquisite taste.
Wild ingredients you can find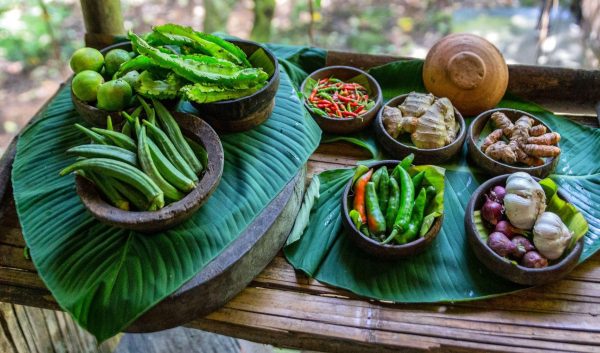 In Sarawakian traditional cuisine, the freshness of the ingredients plays an important part in the jungle kitchen.
Other than the common ingredients that are easily found elsewhere like salt, ginger, and pepper, Sarawak has many indigenous ingredients to offer which can only be found in the jungle like tepus, asam paya, nibong, daun jampang and terung asam (local eggplant) to name a few.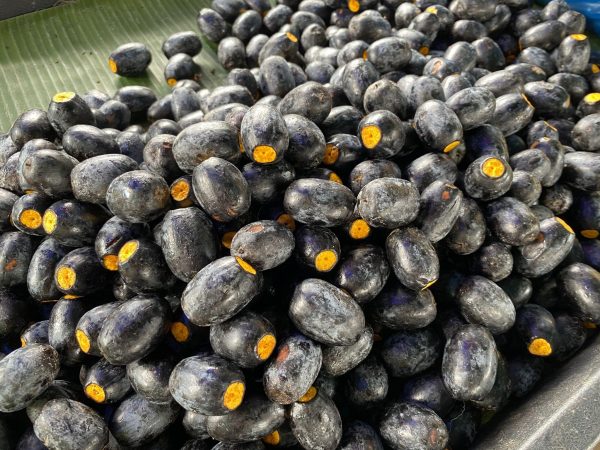 Aside from the famous wild vegetable midin, buah dabai is also exclusively grown here on the island of Borneo. Buah dabai (Canarium Odontophyllum from the family of Burseraceae) is a native fruit and considered a local olive. Locals would usually eat this with sugar and soy sauce.
These ingredients are available all year round and can be found in local stores.
Anything is possible in the jungle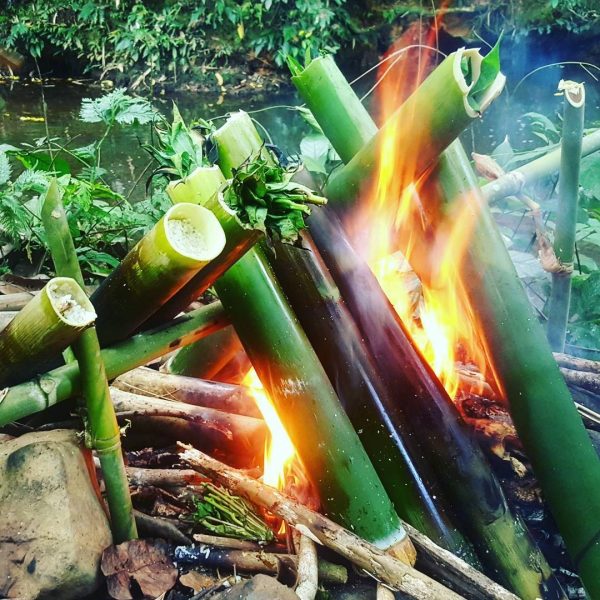 Now that you know what ingredients and resources are used to make these traditional jungle food, what about the kitchenware? What sort of equipment did the natives use to concoct these dishes back in the old days? With the resources of the jungle, one can get creative.
First off, bamboo is gathered in the wild and used as a pot to cook. Bamboo is also used to store and carry the ingredients around in the jungle. The versatility of the bamboo stalk does not stop there – it also acts as a cup.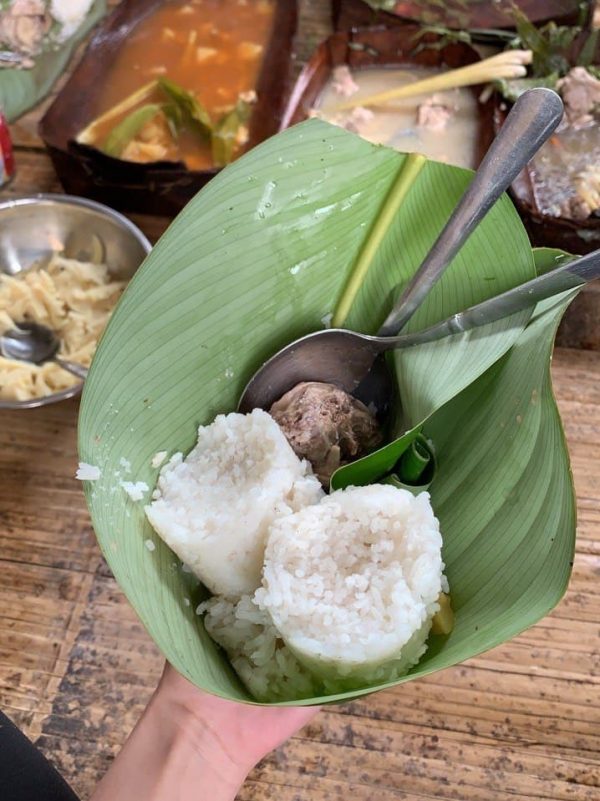 And then there are the isip leaves which are used as a plate like the banana leaves platter in local mamak cafes. Not only that, the isip leaves are also used to wrap rice so that the rice packs can be carried around and consumed anywhere.
Besides isip leaves, the sago tree barks are used as bowls to serve dishes in larger portions, and these choices of natural tableware are environmental-friendly.
Innovate with Mother Nature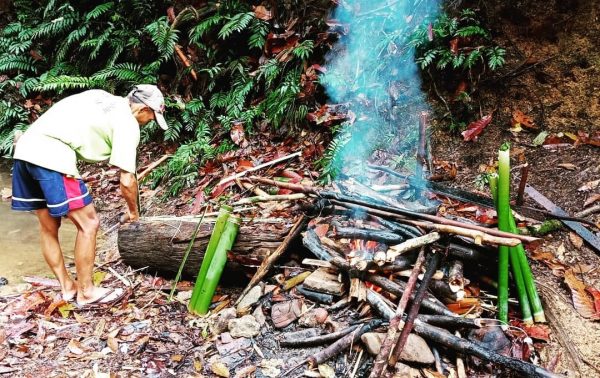 As for traditional cooking methods in Sarawak, the methods commonly practiced are fermentation, boiling and smoked cooking.
Take ayam pansuh for example, chicken is stuffed in a bamboo stalk and cooked over an open fire. The bamboo is continuously rotated to avoid burning.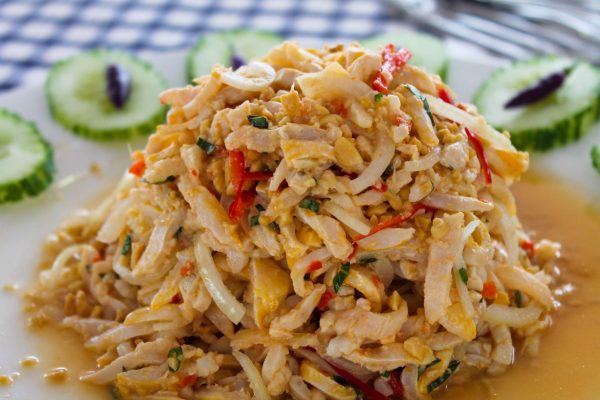 Another example is umai, a traditional delicacy made of thinly sliced raw fish fermented with asam paya (swamp fruit), lime juice, onions, chilies, and a pinch of salt. The lime juice acid works into the raw fish naturally curing the fish. Be sure to use a fish of good grade for better quality.
As for smoked cooking, locals prefer this method to cooking over the fire as it requires less wood, and the fire itself is controlled to avoid any unwanted fire hazards in the jungle.
The Sarawak rainforest is more than just a jungle – it is also the biggest kitchen in the world
Despite the technological advancement made in kitchen, traditional cooking in Borneo is very much alive and is still in practice to this day. Cooking traditional Sarawak food requires a delicate touch, patience and innovative thinking using the natural elements from the surrounding. With Sarawak's rich biodiversity, there are also various types of produce found in the jungle that have health benefits.
If you are keen to learn more about Traditional Sarawak jungle food, be sure to check out this article; https://sarawaktourism.com/story/sarawak-is-more-than-just-kolo-mee/ listing out the traditional cuisine that you can find in Sarawak.