There have been many opinions which have been mentioned by those who are foreign to The Land of Hornbills; some call it a food paradise, while others think of it as just a jungle of trees. While some of these stand more true than others, Sarawak is a destination that has so much more to offer with its wealth in flora and fauna, variety in unique culture and heritage as well as festivals. It is understandable if you feel a little lost or overwhelmed in planning your trip around the largest of the 13 states in Malaysia.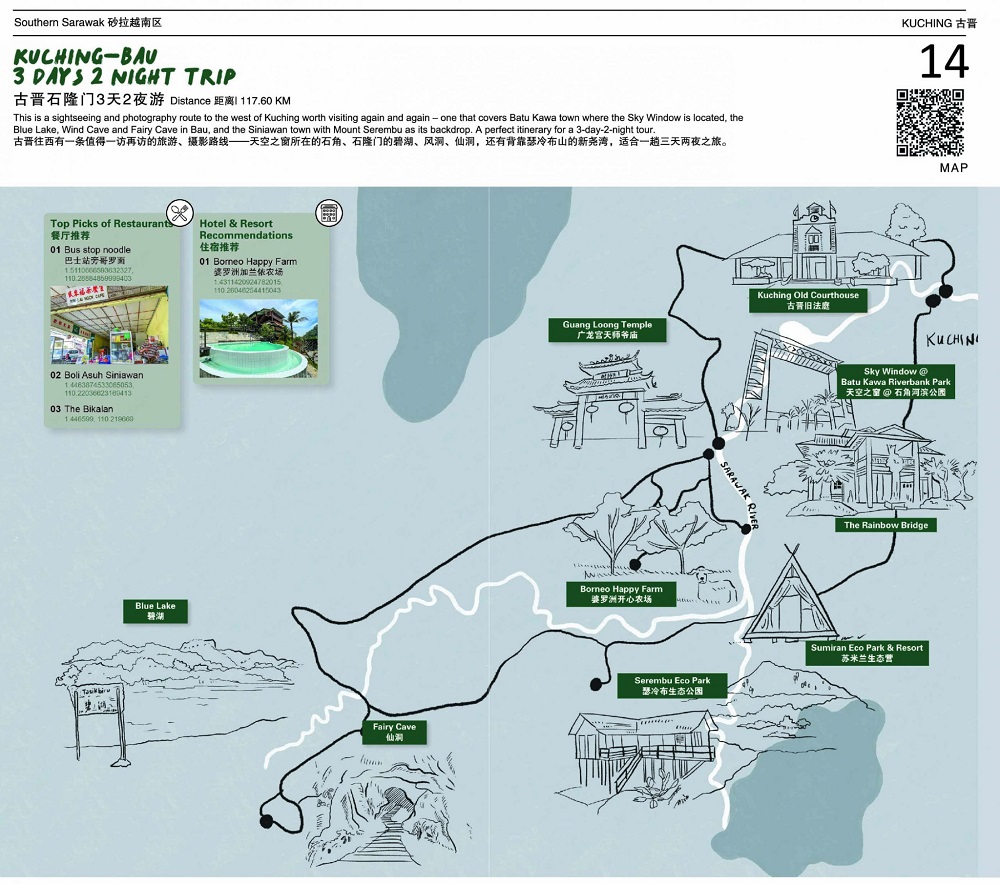 Hence, the Association of Sarawak Inbound Agencies' (ASIA) would like to recommend you to refer to the Sarawak Road Trip: Self Drive Travel Guide which had been curated for travelers to embark the 3 regions of Sarawak; Kuching, Sibu and Miri at the comfort of your own pace and choice of transportation. The travel guide will help you to maximise your time and experience in Sarawak with recommendations to popular must-visit sites, as well as some hidden gems in three different languages; English, Malay and Mandarin. To start off, let us introduce you to an adventure-filled 3-day-2-night trip we prepared for you, circling Kuching and Bau with stops that would present the panoramic qualities of Southern Sarawak.
Day 1
On the first page of the travel guide for the selected trip, readers can get ready for the trip beforehand with information such as total distance, types of transportation and suitable travel season. Furthermore, for the convenience of navigation, ASIA has prepared a QR code for each of the travel routes which roadtrippers can refer to and download a Google map version of the itinerary. Identical to the 7 other routes suggested for Southern Sarawak, this journey will start off at one of the best preserved colonial buildings in Sarawak, The Kuching Old Courthouse.
Tourists can have a look around the history-rich building which has been standing since the Brooke's era in 1871, made up of ironwood roofs, surrounding gardens and cultural art exhibitions before making a short drive to Batu Kawa town district. For every stop, a background summary as well as their respective key activities and opening hours have been included to ensure that you don't miss out on the specialties which they are offering. Alongside that, the distance between each stop is listed as a part of the guide so travelers can decide the mode of transport which they prefer to utilize.
Upon arriving at Batu Kawa, it is advisable to park your car near the Guang Loong Temple. It is commonly known as the centre of faith where locals pay their respect and express their gratitude as it is their religious belief that the temple brings peace and prosperity. With a short walk to the Batu Kawa Sky Window, visitors get to oversee a refreshing view of Batu Kawa and the Sarawak River from the observation deck which stands 30 meters above the ground. Slowing things down with a meal, you may have a meal at The Rainbow Bridge which offers a menu ranging from local favourites to western cuisines. You will have the chance to unwind and appreciate their picturesque display of rare Sarawakian antiques and Belian Wood structure while waiting to be served.
Continuing the journey towards Bau, get your camera roll ready for a plethora of agriculture, land and aquatic animals from the Borneo Happy farm. You can visit the link listed in the travel guide for details on their other services such as the fruit farm, hiking trail, handicraft gallery, animal show times and the first ever dual zipline in Borneo. As one of the recommendations by ASIA, Borneo Happy Farm is a great choice for family visits especially with the little ones.
For those who still have extra time, Sumiran Eco Park and Resort is another recreational area equipped with countless agendas perfectly designed for team and family bonding. Their facilities are well integrated with its surrounding greenery making it ideal for those who crave to experience the jungle, mountain biking, boot camps and adventure trails. Join in on the water games if you don't mind getting wet and have a dip in the lake or canoe through their property river. Rest assured that their waters are croc-free, but make sure to keep your phones on land or use a waterproof phone cover as they may not survive the splash. Visitors would be able to enjoy the flying fox too which is available at Sumiran Eco Park and Resort.
Day 2
As you approach the town of Bau, make sure to snap a few pictures of the beautiful mountainous scenery. The town has a past reputation of being a gold mining industry as well as the primal settlement for Sarawakian Chinese. Famous for its vibrant turquoise water is the Blue Lake, the English translation for "Tasik Biru". Guests who would like to admire the man-made lake up close but prefer to have their feet securely on the ground can stroll along the floating boardwalk when you purchase the ticket at RM10 per person. On the other hand, the heart of Bau has calm water optimal for visitors to drive motorboats, paddle kayaks or swan boats. As fascinating as the lake may seem, do not be tempted to drink or eat the fish from it otherwise you may ingest high levels of arsenic contaminants from its past days as an open mining pit.
Continue your journey and head over to another famous attraction of Bau, the Fairy Cave which is one of the more popular rock climbing bases in Sarawak. In the cave, visitors are expected to encounter about 14 species of bats, 12 different types of snail, swiftlets and even squirrels other than the stalagmites and stalactites. It is highly advised to wear shoes with better grip as it may get slippery in certain areas. If you're in no rush, feel free to drop by its neighbouring cave, The Wind Cave.
Once the adventure activity has been completed, travelers can swing by Siniawan, a century old Hakka Chinese town. This place has been among the top list of must-visit places in Kuching, Sarawak due to the pictographic backdrop featuring parallel rustic shophouses, decorative red lanterns and luminous food stalls. Do note that when the sun starts setting is when you will actually find chances to try all the traditional delicacies served by vendors of different ethnic backgrounds. But no worries if you've arrived a little early! Wander through the serene grounds of the Siniawan Buddhist Village with all its greenery, Chinese-style gazebos and stone-made statues of Buddhist deities.
A vintage-style gallery awaits you in Siniawan town. The Ayak Gallery is a rare find in Sarawak as it was set up by the Siniawan people to showcase and promote any form of art produced by local artists whether it be in the form of paintings, carvings, sculpture or crafts. The Ayak Gallery also houses a kopitiam where you can satisfy your hunger with local cuisines after the viewing. If you're feeling tired after another enthralling day, ASIA already thought ahead to schedule your accommodation.
End your day at the Serembu Eco Park, placed at the foothills of Mount Serembu ensured with comfort while being in tune with nature. Stay the night at their unique villa accommodation and dine in at their floating restaurant while embracing your time away from city life. Camping enthusiasts can also rent out their sites and facilities including barbecue pits, swimming pools, jungle pools and hiking trails. Guests are also known to participate in team building events, mountain biking, canopy walks and have a go with the monkey tree rope. This park is perfect for those who wish to unpack for the last day as there are still countless activities which you can take part in including a hike up its nearest mountain, Mount Serembu.
Day 3 (Final Day)
Wake up early to end your trip with one last mini adventure up a mountain cherished by the locals of Siniawan. Mount Serembu's original name is adopted from the names of Bukit Peninjau and Bung Muan. Hikers can take on the challenge of a guided climb to the 500m summit where you can experience the paradisiacal view of not only the surrounding jungle but also the towns of Bau and Kuching. Carefully make your descent and freshen up before ending your road trip with a drive back to Kuching Old Courthouse.
There is no doubt that you will take several mini pit stops along the way as Sarawak is a place that will never stop feeding you new experiences. The Sarawak Road Trip: Self Drive Travel Guide is here to provide the basic routes and suggestions for accommodation, restaurants and attractions for the selected trips to relieve travelers of some research efforts. On top of that, if you are looking for more activities to fill up some time gaps, there are several other travel activities which can be found and booked on the ASIA website, https://asia.org.my/. So don't let this be the end of your discovery of Sarawak and rest up before venturing for yet another road trip in reference to any of the other travel itineraries drawn up by ASIA.
Log on to https://asia.org.my/sarawak-road-trip/ for mor info on Sarawak Road Trip and the destination.